Albury Insurance
Finding the right coverage for your financial needs and assets can be tricky. With our Albury insurance brokers, we will examine your specific requirements and provide you with a personalised insurance solution.
At Adroit, we know how to deliver exceptional outcomes for our clients as a result of decades of expertise in the insurance market, thanks to our 25,000 happy customers and businesses across rural and metropolitan Victoria. Therefore, you can be safely assured that the Albury, Wodonga communities will be cared for with the same level of care and professionalism.
We position ourselves to negotiate with major business insurance corporations on your behalf, campaigning for your personal needs and solutions that benefit you.
Whether it's personal insurance you are after, such as car insurance, health insurance, or maybe you are looking at protecting your company with our business insurance, at Adroit, we can find the right programme and coverage for you.
Our committed Albury Wodonga group is available 24 hours a day, 7 days a week, and will work hard to ensure you're prepared to confront life's problems without fear. Call us today.
We're passionate about uplifting the local community with intelligent, practical, and tailored insurance services. Contact our Albury insurance brokers.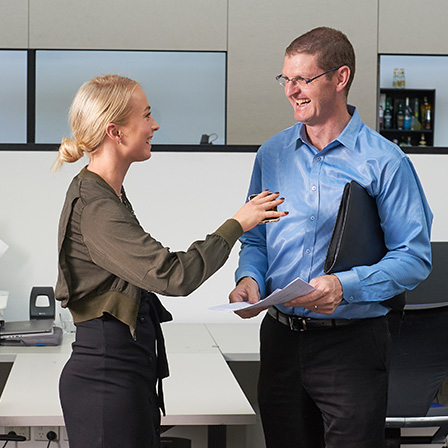 How Our Insurance Solutions Help You
Our New South Wales Albury insurance brokers can protect you with the sense of security that comes from knowing that your family, company, and assets are properly covered. With an Adroit insurance broker by your side, you will:
Get assistance: Receive tailored expert advice that is reputable and easy to understand so you can make informed decisions about which claims work for you.
Gain an advocate: Have an expert on your side who understands your circumstances and negotiates with insurance companies to ensure you are treated well.
Save money: Secure the appropriate insurance on products/goods and avoid overspending on insurance rates and unnecessary coverage.

We're here for you—whatever your financial situation may be.
Have a question? Reach out to our Albury insurance brokers to find out more information.
Find the Personal or Business Insurance for You in Albury
Our insurance brokers in Albury will sit down with you to have an open consultation to understand your specific situation, risk profile, and insurance requirements.
Are you looking for personal insurance or business insurance policies? Contact one of our insurance brokers now.
Adroit's personal and business insurance brokers offer a wide range of products to Albury businesses and families.
In general, our most popular covers include life insurance, professional indemnity insurance, and management liability insurance. We negotiate with reputable insurance providers to offer you a better rate than you would get if you went directly to an insurer.
Insurance Brokers Albury Australia
At Adroit, our professionals provide a high standard of services, trustworthy advice, and comprehensive insurance solutions to Albury.
At Adroit, located in Albury, NSW, 2640, we provide our customers with a great level of service to deliver reliable, reputable advice and guidance for all solutions. We're available 24/7 to answer any questions and offer support.
We pride ourselves on believing in what's great for you—that's why we take an active role in our community by participating in fundraising events and volunteering.
Our Australian Albury team is comprised of risk management and insurance experts, using our repertoire of industry knowledge to help serve you.