Geelong Insurance
We're passionate about making a difference in the Geelong community.
Our Geelong insurance brokers regularly take part in local fundraising and volunteering initiatives. Having worked in the area for over 40 years, we deeply understand the needs of individuals and businesses in Geelong. We'll work with agility and care to make sure you're adequately prepared to deal with a claim.
Our Geelong insurance brokers are available 24/7 to answer any questions you may have. So don't wait until it's too late; call us today and let us help you protect your family, belongings or business.
We partner with the community to provide reliable insurance coverage. Contact our Geelong insurance brokers today.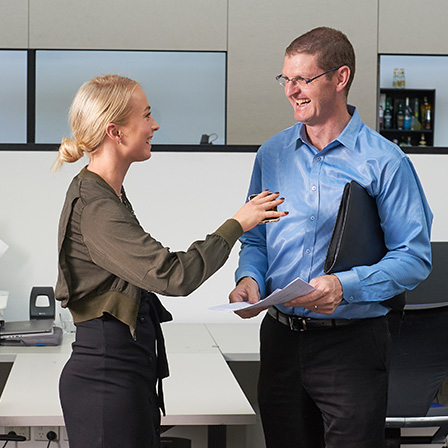 What is an Insurance Broker?
An insurance broker is a professional who connects individuals and businesses with the insurance coverage they need. Insurance brokers work with various insurance companies and can negotiate more favourable terms and premiums on behalf of their clients.
By hiring a team of qualified insurance brokers in Geelong, you can ensure you're not overpaying for insurance or missing out on important coverage that could safeguard you in the event of an unexpected incident.
Adroit's Geelong insurance brokers will go above and beyond to provide you with first-rate insurance solutions and support. Get a quote today.
Why Use an Insurance Broker in Geelong
Partnering with a trusted insurance broker in Geelong means you can:
Receive highly personalised insurance advice
Secure the right insurance policies
Save money on your insurance premiums
Have an expert who advocates for your interests
A broker will work with you to understand your specific insurance needs and find a policy that meets them. Our Geelong insurance brokers have access to a range of policies from leading insurance companies, so we can get you a better deal than if you went directly to an insurer.
At Adroit, we're there for our clients when they need us most. If you need to make a claim, or a claim has been filed against you, our insurance brokers will guide you through the process and make sure you don't have to face the difficult decisions alone.
So if you're looking for peace of mind and protection for your family or business in Geelong, find the right insurance broker at Adroit.
Types of Insurance in Geelong
Individuals and businesses need to be prepared for various risks, from home break-ins and natural disasters to workplace injuries and liability claims. Here are some of the insurance policies we offer our Geelong clients.
Business insurance:
Personal insurance:
We understand that no two people or businesses are exactly alike, so our Geelong insurance brokers will take the time to get to know your specific needs and come up with a personalised insurance solution.
Browse our full range of commercial and personal insurance policies online today.
Insurance Brokers Near Me in Geelong
At Adroit, we offer a wide range of insurance products to Geelong residents and businesses of all sizes. We're an involved member of the local community, and we work hard to ensure our clients are set up for success.
Our team of experienced Geelong insurance brokers and risk advisers are among the most trusted in Australia. We have extensive knowledge and experience in the insurance industry, so you can be confident that you're protected in the event of an unforeseen incident. We are available 24/7 and provide an exceptional level of care and service.
Our Geelong insurance brokers are here to ensure that you're protected against anything that may come your way. Get in touch with us today.
Contact our Geelong team today
Want to learn more about what our agency can do for you? Contact our Geelong insurance brokers and book a free consultation to discuss your personal or business insurance needs.