Ballarat Insurance
Our Ballarat insurance brokers will assess your individual needs to provide you with a tailored insurance solution.
With decades of experience in the insurance industry, servicing 25,000 individuals and businesses across regional and metropolitan Victoria, we know how to deliver great results for our clients. Our expertise and passion for the local community make us uniquely positioned to negotiate with major insurance companies on your behalf, advocating for your needs to make sure you get the fair, affordable coverage you deserve.
Our dedicated Ballarat team is available 24/7 and will work hard to ensure you're prepared to face life's challenges without fear. Call us today.
We're passionate about uplifting the local community with intelligent, practical, and tailored insurance services. Contact our Ballarat insurance brokers.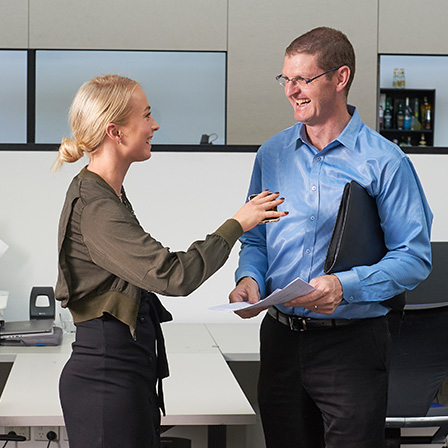 How Can an Insurance Broker Help Me?
Our Ballarat insurance brokers can help you gain the peace of mind that comes with knowing your family, business and belongings are well protected. With an Adroit insurance broker by your side, you will:
Get assistance: Receive professional, easy-to-understand insurance advice tailored to your situation.
Gain an advocate: Have an expert who understands your needs and negotiates with insurance companies to make sure you're taken care of.
Save money: Secure the adequate insurance products and avoid overspending on insurance premiums and cover you don't need.
We're here to help you in every situation.
Whether you need to make a claim or a claim has been filed against you, our insurance brokers will help you understand your options and responsibilities, ensuring you're appropriately prepared for what happens next.
Have a question? Reach out to our Ballarat insurance brokers for more information.
Find the Right Insurance for You in Ballarat
Our Ballarat insurance brokers will sit down with you and have an open conversation to understand your unique situation, risk profile and insurance needs.
Struggling to find the right individual or business insurance policy? Talk to our insurance brokers today.
Adroit's personal and commercial insurance brokers offer a wide range of products to Ballarat businesses and families. Popular cover includes life insurance, professional indemnity and management liability insurance. We negotiate with leading insurance companies so you can get a better deal than if you were to go directly to an insurer.
Insurance Brokers Near Me in Ballarat
At Adroit, we provide a high standard of service, trustworthy advice and comprehensive insurance solutions to Ballarat. With an office located in the heart of the city, we're available 24/7 to answer your questions and offer support. We also take an active role in the community, regularly participating in local volunteering and fundraising.
Our Ballarat team are specialised in risk management and insurance. Using our extensive industry knowledge, we make sure all our clients get the cover they need – and nothing they don't.
Feel confident and empowered to take on tomorrow with an Adroit insurance broker in Ballarat by your side. Call us today.
Contact Adroit Insurance Ballarat
Want to learn more about what our personal and business insurance brokers can do for you? Contact our Ballarat team to book a free consultation and start your journey towards a brighter future.